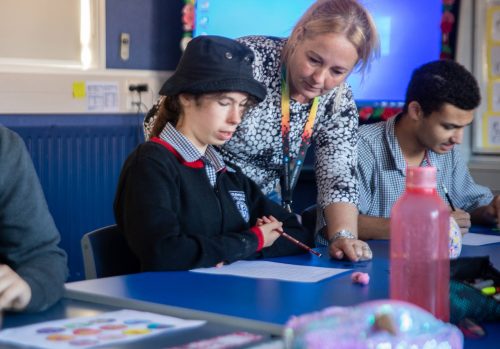 The Wilson School Specialist Teacher Outreach Service
The Outreach service is a specialist education provider that can work alongside mainstream school teams to support ORS students in the mainstream context.
Schools have an ability to enrol with the Outreach service to enable a specialist educational teacher to work within the mainstream school. The specialist teacher works as part of the student's support team, which includes their class teachers, Special Education staff, support staff and family or whanau.
Mainstream schools who use the Outreach Service transfer their ORS staffing entitlement linked to an identified ORS student to Wilson School for a year. The Wilson School's Outreach Service then provides a specialist teacher who works alongside the school team to support the identified ORS student weekly for the school year.
Wilson Outreach Teachers have current knowledge and practices to support high and very high needs students whose parents have chosen a mainstream setting for their student's learning.
The service aims are to work in a collaboration with student's wider team to enhance learning, social, cultural and community outcomes for ORS Students. The service supports the team to enhance student achievement. The Outreach service may be involved in a range of support activities, dependent on student need, such as:
• assessing a student's learning needs
• designing together programmes for a student
• monitoring the student's progress and planning their next steps
• modelling different strategies for teachers and teacher aides
• helping teachers to adapt/differentiate the curriculum
• reworking materials so they meet a student's needs
• asking for support from the Ministry of Education
• contributing to a student's Individual Education Plan.
The Wilson School Specialist Outreach Teachers are experienced special educators who have an ability to work alongside school teams to support aspirations for students. Outreach teachers share their knowledge and skills to enhance outcomes. For further information about the service, please contact:
Joanne Rennie
joaren@wilson.school.nz
Team Leader: Wilson Outreach Specialist Teacher Outreach Service